2019 All-Tournament Teams Announced!
Most Valuable Player, Most Valuable Goaltender, and Playmaker chosen for each division!
May 6th, 2019 at 1:51AM
May 8th, 2019 5:09PM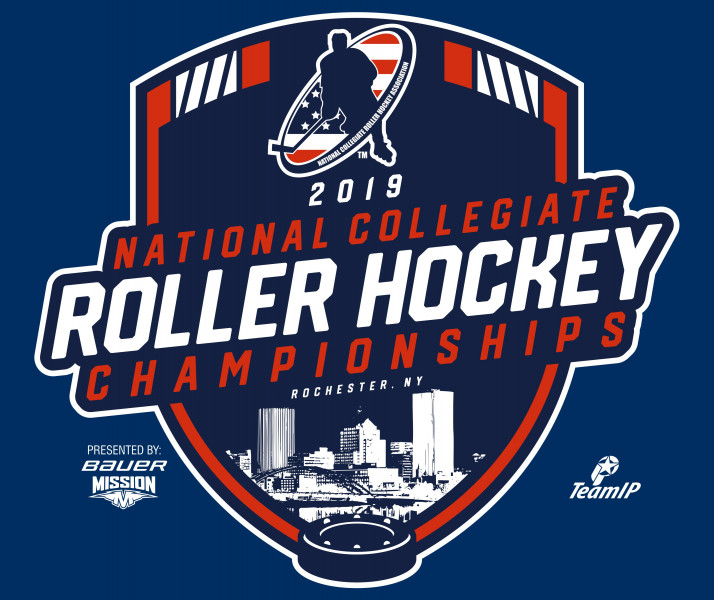 ---
Congratulations to all the teams and student athletes who participated at the 2019 National Collegiate Roller Hockey Championships in Rochester, New York. The NCRHA would like to further recognize the following players, who have earned the honor of being selected for the 2019 All-Tournament Team. Congratulations to all!

DIVISION I
1st Team:
Matthew O'Shaughnessy – Farmingdale State College
Nathan Sommerville – Bethel University
Joey DiMartino – Farmingdale State College
Max Halvorsen – Farmingdale State College
Dustin Muccio-Schrimpe – Farmingdale State College
2nd Team:
Grand Burkhardt – Michigan State University
Ian Edwards – Bethel University
Cody Page – Lindenwood University
Kadin Ricciardi – Bethel Uniersity
Jacob Robinson – Lindenwood University
Most Valuable Player: Joey DiMartino – Farmingdale State College
Most Valuable Goaltender: Dustin Muccio-Schrimpe – Farmingdale State College
Playmaker: Max Halvorsen – Farmingdale State College
Honorable Mention:
Mac Burkhardt – Michigan State University
Nicholas Cafone – Florida Gulf Coast University
Bryan Conklin – Farmingdale State College
Jake Corso – Farmingdale State College
Nicholas DellaMorte – Lindenwood University
Wes Fry – Arizona State University
Aaron Gittings – Arizona State University
Brycon Haney-Johnson – Lindenwood University
Alexander Macdonald – Arizona State University
Jack Mali – Bethel University
Kevin Mooney – UC Santa Barbara
Jimmy Teed – Bethel University
Chris Visico – Lindenwood University
Gannon Warrick – Slippery Rock University
DIVISION II
1st Team:
Tyler Glenfield – Grand Valley State University
Jesse MacIntyre – Grand Valley State University
Cody Hagen – Grand Valley State University
Troy Yano – CSU Fullerton
Ron Best – CSU Fullerton
2nd Team:
Dylan Kammer – CSU Fullerton
Daniel Kumata – Cal Poly San Luis Obispo
Trevor Evans – SUNY Cortland
Brent Sweeney – Kennesaw State University
Anthony Benvenuti – Grand Valley State University
Most Valuable Player: Troy Yano – CSU Fullerton
Most Valuable Goaltender: Ron Best – CSU Fullerton
Playmaker: Cody Hagen – Grand Valley State University
Honorable Mention:
Hunter Baynes – Kennesaw State University
Owen Benben – Miami University
Donald Brodd – University of Massachusetts
Trystan Chappell – Kennesaw State University
Nick Foster – West Chester University
Doug Giles – Kennesaw State University
Kyle Gliwa – Florida State University
Jacob Hickey – San Jose State University
Ryan Hoffman – Grand Valley State University
Ryan Kushay – Florida State University
Timmy Lauing – Grand Valley State University
Sean Lawrence – Robert Morris University
Nicholas Leacox – Cal Poly San Luis Obispo
Robert Roddy – Kennesaw State University
Jacob Schulte – Kansas State University
Nicolas Schlegel – Stony Brook University
Jason Stitt – Northeastern University
Alex Waddel – Cal Poly San Luis Obispo
Cody Zajackowski – Rochester Institute of Technology
DIVISION III
1st Team:
Matt Kaski – Endicott College
Darien Oliver – University of California, Berkeley
Jonathan Waring – Endicott College
Defino Varela – University of California, Berkeley
Stephen Richetelli – Endicott College
2nd Team:
Corey Eisenband – Endicott College
Cal McCleery – University of California, Berkeley
Ian Duffy – Cal Poly Pomona
Lucas Winkelmann – Maryville University
Conner Taherian – University of California, Berkeley
Most Valuable Player: Jonathan Waring – Endicott College
Most Valuable Goaltender: Stephen Richetelli – Endicott College
Playmaker: Delfino Varela – University of California, Berkeley
Honorable Mention:
Justin Baldwin – Illinois State University
Blake Becker – Missouri S&T
Cam Bleck – Endicott College
Daniel Bordan – Yeshiva University
Charles Canty – University of Denver
Matthew Carl – Yeshiva University
Joseph DeMarco – SUNY Oswego
Caeden Dillman – Endicott College
Austin Donahue – Illinois State University
Bradley Duggan – Sam Houston State University
Andrew Gagnon – Hofstra University
James Gallmeister – University of Colorado
John Gattone – Drexel University
Garrett Griffin – Cal Poly Pomona
Nicholas Grillo – Temple University
Tyler Grinley – Boston University
Brian Harder – Endicott College
Luke Jorgensen – Endicott College
Mark Laduzinsky – Ohio State University
Matthew Levy – SUNY Oswego
Vincent Murdock – University of Akron
Alex Nageli – Virginia Tech
Jacob Oberschelp – Cal Poly Pomona
Marc Orlin – Syracuse University
Brian Romola – James Madison University
Derick Rosas – Cal Poly Pomona
Jack Tofallos – SUNY Oswego
Joe Tofallos – SUNY Oswego
Drake Williams – Illinois State University
Jake Wooley – Illinois State University
DIVISION IV
1st Team:
Josh Hirst – Bethel University
Colin Tinschert – Farmingdale State College
Frank Guida – Farmingdale State College
Tyler Zaino – Bethel University
Noah Vanderbeck – Bethel University
2nd Team:
Andrew Ether – Bethel University
Noah Laino – Michigan State University
Nicholas Casazza – Farmingdale State College
Joseph Mula – Lindenwood University
Michael Muccio-Schrimpe – Farmingdale State College
Most Valuable Player: Josh Hirst – Bethel University
Most Valuable Goaltender: Noah Vanderbeck – Bethel University
Playmaker: Tyler Zaino – Bethel University
Honorable Mention:
Justin Burger – UC Santa Barbara
Spencer Carlson – Slippery Rock University
Matthew Cicchetti – Farmingdale State College
Mark Craven – Bethel University
Matthew Fedgo – Michigan State University
Sean Filiault – Florida Gulf Coast University
Joseph Ginsberg – Florida Gulf Coast University
Blake Jakopec – Bethel University
Joshua Lucas – Michigan State University
Christopher Mahaffey – Bethel University
Samuel Mastrogiacomo – University of Massachusetts
Sean Matthews – Bethel University
Colin McHugh – Arizona State University
Zachary Megyesi – Grand Valley State University
Dan Nielsen – Grand Valley State University
Jack Ryan – Rochester Institute of Technology
Michael Santos – Farmingdale State College
Austin Steger – Lindenwood University
Nick Thorpe – Lindenwood University
JUNIOR COLLEGE DIVISION
1st Team:
Jacob Murphy – St. Louis Community College
Dominic Stankiewicz – Henry Ford College
Christopher Dlugos – St. Louis Community College
Dylan Sullivan – St. Louis Community College
Kyle Wedbush – St. Louis Community College
2nd Team:
Joshua Dyl – Henry Ford College
Eric Holgate – Henry Ford College
Justin Furtado – West Valley College
Christopher Greco – Henry Ford College
Matthew Cahalan – Henry Ford College
Most Valuable Player: Dylan Sullivan – St. Louis Community College
Most Valuable Goaltender: Kyle Wedbush – St. Louis Community College
Playmaker: Dominic Stankiewicz – Henry Ford College
Honorable Mention:
Joseph Furtado – West Valley College
Michael Gasior – Henry Ford College
Austin Trenner – West Valley College
Max Watson – St. Louis Community College
Casey Wingbermuehle – St. Louis Community College