GPCIHL Champions Crowned!
Maryville, Kansas State and Bethel take titles
February 26th, 2019 at 12:01AM
February 26th, 2019 6:18AM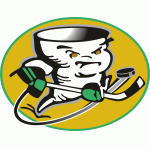 ---
The first conference champions of the 2018-2019 season of collegiate roller hockey were crowned this past weekend in Ballwin, Missouri. Bethel defeated Lindenwood in both the Division I and Division IV best-of-3 series, while Kansas State won the Division II championship and Maryville took home the Division III title.
In Division I, Bethel took game 1 on Friday night, but not without a fight. The final score was 5-4 in overtime. Lindenwood bounced back and won game 2 by a score of 6-4, setting up a winner-take-all game 3 on Saturday evening. It was Lindenwood who struck first, halfway into the 1st period. Bethel answered less than 3 minutes later, taking a 1-1 tie into the 1st intermission. The teams would trade goals in the 2nd, but it was Bethel's 3rd goal of the game, scored with 27 seconds remaining in the 2nd by Ian Edwards, that would prove the eventual game winner. Bethel goaltender Jimmy Teed earned the #1 star, making 49 saves for the 'ship.
In Division II, it was also a best-of-3-series, with Kansas State facing off against Mizzou on Saturday afternoon. Kansas State won both games easily, 11-1 and 12-1.
In Division III, 4 teams faced off on Sunday. Maryville defeated Central Missouri 8-3, while Missouri S&T defeated Illinois State 9-7. This pitted Maryville against Missouri S&T for the final, and it ended up being Maryville by a score of 5-3 over Missouri S&T, with all 5 goals coming from the combo of Steven Steger and Ben Ekberg for Maryville.
In Division IV, Bethel came ready to play and defeated Lindenwood in 2 consecutive games, with scores of 7-4 and 6-4. Like the DI matchups, every game was a battle.
Stay tuned to www.ncrha.org over the weekend for all other conference championship tournaments and on Monday, March 5 for NCRHA Selection Monday, when all bids to the 2019 National Collegiate Roller Hockey Championships will be announced, starting at 9pm Eastern.